HGH Deficiency Blood Testing: Purpose, Protocol, Results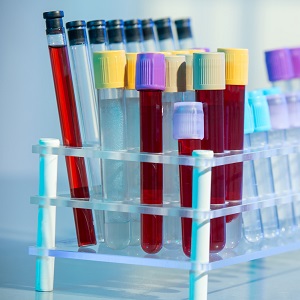 For many adults, HGH deficiency blood testing is a useful tool to diagnose why their bodies are going through many unpleasant changes as they age. Growth hormone (GH) is one of the body's most influential chemical messengers. If its levels get too low later in life, a person may suffer from cognitive decline, poor health, low libido, and premature physical aging.
The human growth hormone deficiency blood test alerts the doctor to problems with GH secretion. By doing so, it allows for the appropriate type of hormone replacement therapy to bring about homeostasis (balance) throughout the body.
The growth hormone deficiency test cost depends on the number of panels ordered by the doctor. A person's reported symptoms, their severity, and overall health and age influence which blood panels to run.
If your symptoms align with those of HGH deficiency, your doctor will require you to undergo a physical examination along with the blood test for HGH deficiency. Symptoms of GHD include, but are not limited to:
Lethargy, fatigue, lack of endurance
Increased weight
Muscle and strength loss
Reduced bone density
Joint pains
Forgetfulness
Impaired cognitive functions
Depression
Mood changes
Anxiety and stress
Hair thinning or loss
Aging skin
Low libido
Sexual decline
Frequent or longer-lasting illnesses
Social isolation
HGH deficiency blood testing is a useful took to diagnose growth hormone imbalance in the adult body.
Who Needs HGH Deficiency Blood Testing?
Only individuals with signs of growth hormone deficiency (GHD) require analysis of their blood levels. Every person experiences a decline in GH production as they age. That does not automatically mean there will be a shortage of this vital chemical. Testing for growth hormone deficiency is only necessary when symptoms of GHG are present.
Why should you undergo HGH deficiency blood testing?
Getting a test for HGH deficiency is beneficial if you are having symptoms associated with GH decline. Ignoring these issues can increase the risk of developing conditions such as:
Cardiovascular disease
Osteoporosis
Type 2 diabetes
Dementia
Depression
Those are just a few of the risks that increase with untreated GHD. Any man or woman who desires a healthy life, filled with energy, passion, and maximum enjoyment, should consider getting HGH deficiency testing.
What Is the Protocol for Getting an HGH Deficiency Blood Test?
The first step in HGH deficiency blood testing is the medical consultation. Before the doctor can determine which blood panels to order, he or she needs more information, including symptoms, overall health, and any concerns.
Regarding how to test for HGH deficiency, the doctor will then order the appropriate blood panels, which will give an in-depth look inside the body. Checking blood count, cholesterol, thyroid function, blood sugar, and various hormones helps the doctor rule out other health issues while determining if hormone therapy is necessary.
Upon the scheduling of the growth hormone deficiency blood test, it is necessary to fast after midnight of the evening before the blood specimen collection. Your doctor may also require you to stop certain medications or supplements a day or two before testing.
The HGH lab test will be first thing in the morning while fasting to get an accurate measurement. Upon arrival at the lab, check-in at the desk, and wait for your name to be called. At that time, you will head back to a small room or area where some tubes of blood will be drawn from a vein in your arm. The results will arrive at the hormone clinic within a few days.
What Does the Doctor Look for When Ordering HGH Deficiency Blood Tests?
Along with checking growth hormone levels, the testing for HGH deficiency allows the doctor to rule out many other health issues that could also be the cause of any symptoms. Anemia, leukemia, high blood sugar levels, and high cholesterol can all contribute to many of the symptoms associated with GHD.
The following list shows the various panels available for growth hormone deficiency testing:
| | | | | | | |
| --- | --- | --- | --- | --- | --- | --- |
| Blood Test | Purpose | Female: Complete | Male: Complete | Female: Super | Male: Super | Male: Super Complete |
| CBC with Diff/Platelet | Measures red and white blood cell count, platelets, hematocrit, hemoglobin; Checks for anemia, leukemia, infection, inflammation, and more | X | X | X | X | X |
| Comprehensive Metabolic Panel (CMP) | Measures glucose, calcium, electrolytes, enzymes; Checks for organ function, kidney and liver health, diabetes | X | X | X | X | X |
| Lipid Panel | Measures cholesterol and triglycerides; Checks for atherosclerosis and cardiac risk indicator | X | X | X | X | X |
| IGF-1 | Measures insulin growth factor 1; Checks for pituitary gland function, growth hormone deficiency | X | X | X | X | X |
| Estradiol | Measures estrogen levels for ovarian function, andropause, menopause, menstrual abnormalities, and more | X | X | X | X | X |
| Progesterone | Checks for miscarriage risk, infertility, menopause | X | | X | | |
| Serum Testosterone | Measures testosterone levels; Checks for infertility, pituitary or hypothalamic issues or tumors, incl testicular tumor, erectile dysfunction, hirsutism in females | X | X | | | |
| Prostate-Specific Antigen (PSA) | Measures PSA levels; Checks for prostate cancer | | X | | X | |
| Triiodothyronine, Free, S (T3) | Checks thyroid function, monitors thyroid treatment | X | X | X | X | X |
| Thyroid-Stimulating Hormone (TSH) + Free T4 | Measures TSH and T4 levels; Checks for pituitary and thyroid function, female infertility, monitors thyroid cancer | X | X | X | X | X |
| Vitamin D, 25-Hydroxy | Checks for vitamin D deficiency, bone weakness, parathyroid gland function | | | X | X | |
| Test, F Eqlib + T LC/MS | Measures free and total testosterone; Checks for testosterone levels, testicular function, hirsutism in females | | | X | X | |
| DHEA-Sulfate | Checks for adrenal gland function, adrenal tumors, PCOS, and more | | | X | | |
| DHEA-SO4 | Same as DHEA-sulfate | | | | | X |
| Testosterone Free and Total | Checks free and total testosterone as mentioned | | | | | X |
| Thyroid Panels (T3, T4, TSH) | Thyroid hormone levels and function as listed above | | | | | X |
| Cortisol | Checks stress hormone levels, adrenal functions, Cushing syndrome, Addison disease | | | | | X |
| Prolactin | Checks for breast milk production, infertility, menstrual irregularities, erectile dysfunction, prolactinomas (tumors) | | | | | X |
| Homocysteine Plasma | Checks for B vitamin deficiency, heart attack risk, monitor heart disease | | | | | X |
What Is IGF-1, and why is it used to determine HGH deficiency?
Insulin growth factor 1 comes primarily from the liver, but also skeletal muscle and other tissues following receipt of signals from growth hormone. Without enough GH, IGF-1 levels would decline. The pituitary gland sends GH out into the bloodstream in rapid, short pulsatile bursts every few hours. As quickly as GH enters the blood supply, it is gone as it races to its receptor cells, binding with them and then disappearing. Because GH stimulates IGF-1 production, using that hormone as a measurement tool is a better option because it remains stable all day.
HGH deficiency blood testing checks many serum levels to deliver an accurate diagnosis.
What Do the HGH Deficiency Blood Test Results Mean?
The growth hormone deficiency test results will show the doctor if you have GHD. If so, you can then receive HGH therapy, which will start to raise your GH levels and reverse any symptoms you have resulting from growth hormone decline.
Getting a positive result of a GH deficiency diagnostic test is not a serious medical problem. It only means that your growth hormone levels are too low to support the body's need for this chemical. Just as you might need estrogen or testosterone therapy, HGH treatment is a vital form of hormone replacement.
Will HGH deficiency blood testing provide you with the answers you seek? To learn more, contact Greenberg Health. All consultations are by phone, confidential, and free of charge.