Doctors Who Prescribe HGH Therapy for Adults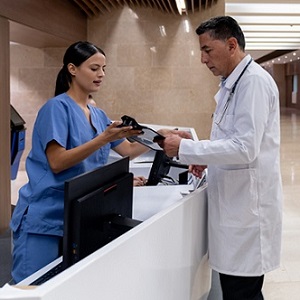 Find out:
The type of doctors who prescribe HGH therapy for adults
Why HGH therapy is by prescription only
What the doctor needs to know before prescribing HGH injections
Why Greenberg Health is the right choice for HGH therapy
The five steps you need to complete to get HGH therapy
When you suffer from the symptoms of growth hormone deficiency, you want to contact doctors who prescribe HGH and specialize in hormone replacement therapy – HRT. If you fall and break a bone, you will want to visit an orthopedist to have it repaired. That is also why you visit a cardiologist for your heart or a dermatologist for your skin. The reason there are medical specialties is so that people can get the best treatment possible.
Yes, your family physician is the person to call if you get the flu or a stomach bug. He or she will conduct yearly physicals and refer you out to a specialist, if necessary. However, your general practitioner is not the right choice for hormone treatments.
Doctors who prescribe HGH as a primary part of their medical practice do so after years of specialized training and experience. They know how various hormones interact with one another in the body and how to detect if there is an imbalance. Because hormones often influence other such chemicals, it is essential to get any treatment from a physician who understands how that therapy will relate to other hormone levels in the body.
One of the issues with hormones is that any single imbalance can lead to other hormonal problems. That spiraling process can have a detrimental effect on the body. When multiple hormone levels are out of balance, the body can experience breakdowns in many areas, including:
Immunity
Metabolism
Cell regeneration
Digestion and blood sugar regulation
Brain functions
Heart health
Structural integrity
Doctors that prescribe HGH injections do so only after conducting the required blood tests and physical examination. They carefully review each patient's medical history to ensure that there is no other reason behind the symptoms the individual reports.
Only after verifying the need for HGH therapy and being certain that no contraindications exist will they offer a prescription for human growth hormone injections.
By contacting a hormone replacement therapy doctor who prescribes HGH injections, you are ensuring that only a qualified physician is providing this treatment.
Why Do You Need Medical Hormone Doctors to Prescribe HGH?
Human growth hormone therapy is a medical treatment that will increase the level of specific hormones in the body. Upon raising the amount of HGH in the bloodstream, there will then be a boost in both insulin growth factor 1 and testosterone production. HGH influences the secretion of both of those hormones. Higher human growth hormone levels will also lower cortisol and influence blood glucose uptake by the body's cells.
It is essential that the doctor monitors your different hormone levels to ensure they remain within their normal range. A hormone level that is too high or too low can cause problems with your health and well-being. Maintaining the delicate hormone balance of the body is vital to ongoing health.
Can doctors prescribe HGH to any adult?
No, hormone specialists follow stringent criteria when determining candidacy for HGH therapy. There must be a medical reason why you need HGH injections. Wanting to look younger is not a viable reason for HGH therapy. Suffering from many of the symptoms associated with low growth hormone levels is a reason to begin human growth hormone therapy. The HRT specialist understands how to determine a person's candidacy.
Receiving HGH injections when they are not needed could lead to potentially serious side effects. We see this most often with individuals who purchase HGH illegally from online websites for non-medical related issues. They tend to experience adverse reactions associated with elevated HGH levels in the bloodstream.
Doctors who prescribe HGH do so with considerable care to ensure that the benefits of treatment are present without undue risk of adverse reactions.
A hormone specialist follows stringent criteria when determining who can benefit from HGH therapy.
What Does a Doctor Need to Prescribe HGH?
A Dr who prescribes HGH will need proof of a verified growth hormone deficiency. That requires measuring blood hormone levels to determine if the pituitary gland is producing enough growth hormone daily. Blood level measurements are taken first thing in the morning before you have anything to eat or drink. That provides an accurate assessment of growth hormone secretion as the consumption of food can alter the readings.
Additionally, doctors who can prescribe HGH also require each candidate for hormone replacement therapy to undergo a physical examination before receiving treatment. The exam gives the physician a chance to check for other possible causes of the symptoms, as well as providing information used to determine the prescribed HGH dosage.
The final information necessary for doctors who prescribe HGH is a medical history questionnaire. Because you are dealing with an HRT specialist, he or she will not know what health issues you may have had in the past. The hormone doctor will need to know about any past and current medications, treatments, and even over-the-counter supplements you use before prescribing HGH therapy.
HRT doctors need to check blood hormone levels, physical examination findings, and your medical history before prescribing HGH therapy.
Greenberg Health HGH Therapy Doctor
You may be wondering what makes a Greenberg Health HGH therapy doctor the right choice for hormone replacement treatment. After all, looking for doctors who prescribe HGH near me can turn up plenty of local results. Why not visit one of those physicians instead of contacting our hormone clinic?
The answer is simple – at Greenberg Health, hormone replacement therapy for men and women over thirty years of age is all we do. Unlike many local doctors who treat a vast array of health issues, we specialize solely in hormone replacement. That means you are dealing with a physician who has extensive experience in this field of medicine. You do not want a doctor who "dabbles" in HRT on the side as an adjunct to the rest of his or her practice. No matter where in the US you reside, help for hormonal imbalance is as close as your telephone.
We are often asked can a doctor prescribe HGH in addition to other medical treatments. The answer is yes, in most circumstances. There are times when HGH therapy is contraindicated, such as when a person has an active malignancy. Cancer is always contraindicated for human growth hormone therapy. Only after the cancer is in remission and the treating oncologist signs off on allowing HGH therapy can treatment for growth hormone deficiency begin. Before that time, the HRT specialist will help the patient find other ways of improving growth hormone production.
Some people worry about using HGH injections if they have diabetes. There is a considerable benefit from human growth hormone therapy for people with diabetes – especially type 2. Closer monitoring of blood sugar levels is required when prescribing HGH therapy to people with diabetes. The good news is that many people find they can lower (with medical guidance) their insulin or other diabetes medications.
Finally, the other reason why Greenberg Health is the right choice when looking for a hormone clinic is the monetary savings. Unlike a local doctor who charges for every office visit, we provide complimentary telephone consultations to get you started. You save both money and time spent sitting in a waiting room when you select our clinic for your HGH therapy.
At Greenberg Health, hormone replacement therapy is all we do. Our hormone clinic offers men and women throughout the US the best possible treatment for hormonal imbalance.
What Do You Need to Get a Prescription?
Before you can get doctor prescribed HGH injections, you must undergo the required diagnostic processes. There are 5 easy steps to take to receive human growth hormone therapy:
The initial consultation – you will speak with a medical advisor here at Greenberg Health by phone. The consultation is confidential and provided to you at no cost or obligation. Feel free to take as long as you need to get your questions answered. In fact, we encourage you to read through some of the pages on this website to help you formulate your questions. Look over the list of symptoms of growth hormone deficiency and make note of the ones you have so that you are ready when the MA here at our hormone clinic asks you for them.
The blood test – we will send you to a local laboratory near you first thing in the morning for your blood specimen collection. Remember not to eat or drink anything after midnight until you leave the lab. In addition to measuring specific hormone levels, the doctor will also check your complete blood count, cholesterol and blood sugar levels, and other crucial panels to ensure there are no other issues present.
The physical examination – you will also undergo an examination with a local physician who will forward the report directly to our hormone clinic. The doctor will assess your physical state and check that there are no contraindicated issues preventing you from receiving hormone replacement therapy. Information provided in this report, such as body composition, age, height, and weight are necessary for determining your prescribed HGH dosage.
The medical history questionnaire – you will also complete a comprehensive health report located here on this website. The information you send us through the secure network is confidential and will be reviewed by our hormone doctor along with your other reports. Please provide all requested information, including any medical treatments – both prescription and over-the-counter you have received. We also need to know about any vitamins and supplements you take before prescribing HGH therapy.
The follow-up consultation – after we have received all the above information, our HRT doctor here at Greenberg Health will review your file and determine if you can benefit from human growth hormone therapy. If so, the dosage of HGH your body needs will be calculated and provided on a prescription. During your follow-up phone consultation, you will discuss the options for treatment with your medical advisor. We provide a variety of HGH brand and injector style selections to meet the varied needs of our clients. Once you make your choice, we then forward your prescription to a licensed US pharmacy for fulfillment. The HGH medication and any necessary supplies will ship right to your door.
At Greenberg Health, our doctors who prescribe HGH do so to help you live a life full of vitality and well-being. We take your health seriously and provide superior service from the first phone call until the end of your treatment.
For affordable hormone replacement therapy and superior service, contact Greenberg Health to learn more about HGH injections.