Serostim: Uses, Benefits, Prescribing Information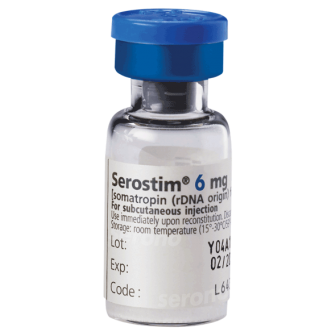 Serostim is an injectable form of human growth hormones (HGH) used to treat cachexia or wasting in HIV-positive patients. It is necessary for individuals receiving Serostim to remain on antiretroviral therapy throughout their usage of HGH medication.
EMD Serono, the Serostim manufacturer, cautions that people with the following contraindications should not receive HGH therapy:
Allergies to any ingredients in Serostim
Active malignancy
Diabetic retinopathy
Acritical illness resulting from complications associated with open-heart or abdominal surgery, or from multiple serious injuries
Severe breathing complications
Serostim uses are primarily restricted to only those individuals diagnosed with HIV/AIDS who suffer from wasting or cachexia.
Serostim is an injectable form of human growth hormones for use by individuals with HIV to treat symptoms associated with cachexia or wasting.
What Is Serostim?
Serostim is the brand name for the HGH medication manufactured by EMD Serono for people with HIV/AIDS. It is not for the regular treatment of adult growth hormone deficiency in healthy individuals.
What is Serostim defined as, and what does it contain?
Serostim definition shows it to consist of the same single chain, 191 amino acid residue –that replicates naturally produced growth hormone. Each 5 or 6 mg vial of Serostim contains somatropin (HGH) for reconstitution with sterile water. The 4 mg vials of Serostim come with bacteriostatic water containing benzyl alcohol as a preservative.
Is Serostim a steroid?
No, just as growth hormone is not a steroid, it is a polypeptide protein hormone, neither is Serostim. Although some of the actions of Serostim are anabolic in nature, such as protein synthesis in the muscles, all forms of HGH are peptide hormones.
Who Can Benefit from Serostim?
Individuals who can benefit from a Serostim injection typically suffer from any of the following:
Cachexia – unintentional weight loss can further weaken the body.
Wasting – muscle loss frequently occurs in individuals with HIV/AIDS as the body searches for added energy by pulling it from the muscles.
Increased truncal fat (visceral adipose tissue – VAT) – in some situations, such as with HIV/AIDS, the body holds onto stored fat. By pulling energy from the muscles, fat retention increases.
Fatigue – energy decline often leads to exhaustion, and, when coupled with weight loss, leaves the body feeling weak.
Serostim FDA approval for use by individuals with HIV/AIDS requires the use of antiretroviral medication at the same time.
You may benefit from Serostim if any of the following is true of your situation:
Overall weakness
Clothes hanging loose on the body
Unexplained loss or increase in weight
Decreased capacity for exercise
Easily fatigued
Need more frequent rest breaks
Trouble performing regular activities
Benefits of Serostim
When adults are growth hormone deficient, many physiological changes occur in the body that can heighten in someone who is immunocompromised in some way. Serostim benefits are relatively the same as with other brands of HGH. The primary difference is that Serostim HGH targets specific issues prone to people with HIV/AIDS.
In one study of the benefits of Serostim, individuals who received HGH therapy experienced the following benefits:
Increased physical endurance
Significant improvement in lean muscle mass and total weight
Better appetite
More energy and endurance
Improved appearance
Happier disposition and mood
More enjoyment from eating
Patients reported feeling better
Serostim provides positive benefits to many people with HIV/AIDS.
How Do You Get Serostim Prescribed?
You will need to speak with your doctor about whether Serostim is right for you. As previously stated, you must remain on antiretroviral therapy the entire time you use HGH injections.
Before receiving your Serostim kit, your doctor will run diagnostic blood tests to measure your growth hormone levels and determine if the treatment is right or you.
Do not attempt to buy Serostim online without a prescription. The only safe way to use this medication is under doctor supervision. In the past, counterfeit versions of Serostim shipped illegally from overseas led to unwanted side effects. All medications should come from fully licensed US pharmacies to guarantee their safety.
If you have questions about Serostim or any other brand of HGH injections, please contact Greenberg Health for a free consultation by phone.